Our Invitation to Enter Ourselves
Peggy Allen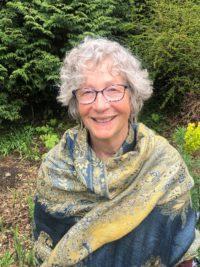 "This being human is a guest house. 

Every morning a new arrival. 

Welcome and entertain them all!"  Rumi
Today the guest is a garden, rich in fragrance and blossom, a riot of color and texture, calling me to admire, tend, dream, plant, and just gaze upon. Some days, the guest is a tender-hearted friend who needs to be listened to as we walk the woods, moving ever more faithfully into a sacred relationship. Not long ago, the guest was fear, disguised as criticism and disdain.  Opening the door, I felt the relief of returning from exile and separation. Yesterday the arrival was my heart which overflowed under the gaze of mercy and love from allies on this Beloved  Earth. Who is arriving at your beautiful house today, and in what way can they be gathered in ever more lovingly and completely? 
I live my life in widening circles 

that reach out across the world. 

I may not complete this last one, but I will give myself to it.

 Rilke 
As time spreads out and my experience of being alive comes into more lightness and focus, I  see the pattern of everything I have been privileged to witness and engage in. There is a circle of relationships: as a mother, grandma, partner, sister, friend, nurse, therapist, wilderness hiker, and Soul Companion. This flows into the circle of creativity and healing where dreams, rituals,  collage, painting, poetry, contemplation, and reverie dwell. The circle of interconnection surrounds all things: the garden, the mountains, and woods, the Ancestors, the Mystics, the  Spirit Guides, all creatures, all Life, and the Holy One. How does it serve us all to give ourselves so vibrantly and joyfully to being in these widening circles together? 
And who is it who awakens and quickens your very Being and excites, consoles and challenges you? For me, it is my circle of family and friends, always my most reliable teachers. It is my long-standing guidance from depth psychology and especially Carl Jung. It is my trusted colleagues and mentors from The Living School at the CAC, and Pacific Jubilee in Canada where I am completing my Soul Guiding training. It is the Stillpoint community where I am held with love, and I hope you will find yourself also held. And most of all it is this planet Earth where we all live and breathe and have our Being.  
"What will you do with your one wild and precious life?"  

 Mary Oliver