Evening In-Person Outdoor Celebration of Summer Solstice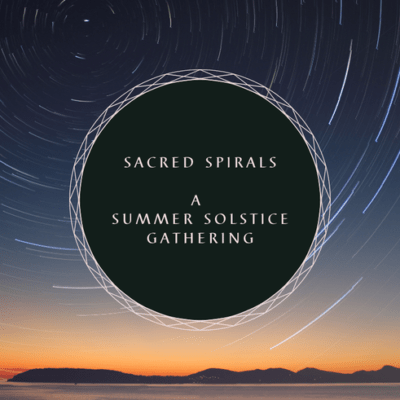 Our earth is in a sacred dance, spiraling around the sun in a yearly cycle of death and rebirth. The parts of us closest to wild nature come alive when we take time to listen to the call of the solar cycle that lives in each plant, animal, and place.
This outdoor in-person gathering is an opportunity to pause, take in the beauty of the summer solstice, and reflect on how this time of growth and light is embodied in our lives. We will also look at what it means to us to be shifting from the growing light to the growing dark, and we will reflect on the alchemy of these sacred cycles of growth and rest.
Summer Starr is a deep lover of the earth and all her beings. She enjoys supporting others in developing their own relationship with the earth and the unseen realms. This includes developing relationships with earth-honoring ancestral wisdom still held in the memory of our DNA from those who lived closer to the cycles of nature.
Event Category – Solstice
Stillpoint at Beckside Spirituality center is excited to offer this special event as we honor Mother Earth during the yearly cycle.
Date and Time: June 20, 2022 – (Monday) 6:30 pm (Stillpoint is open at 6:00 pm for personal time to walk the labyrinths or grounds)
Location: 1625 Huntley Road, Bellingham, WA. 98226
Ample free parking available. Look for signs marking the entrance to the parking area.
What to Bring
This is an outdoor gathering.  Please bring whatever you need to be comfortable – a yoga mat/Pilates mat/camping mat, water bottle, pillow, and a blanket if you wish. 
Proceeds
There is no fee for this gathering. Donations are graciously accepted for the creation of our new Sanctuary. Deep appreciation for your genorosity.
~~~~~~~~~~~~~~~~~~~~~~~~~~~~~~~~~~~~~~~~~~~~~~~~~~~~~~~~~~~~~~~~~~
Please note:
1. Your registration is free and allows Stillpoint to prepare properly for participants.
The first step is to register.
Error: Contact form not found.
The second step is to donate
If paying by check, please make it out to Stillpoint at Beckside and mail to Linda Conroy 1625 Huntley Rd. Bellingham, WA 98226.